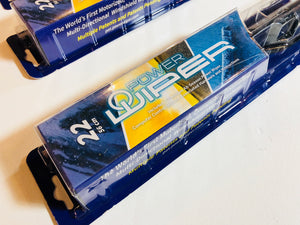 PowerWiper SnowPlow Set
Regular price $189.00 Sale
The PowerWiper Snow Plow Set consists of PowerWipers for the driver and passenger side plus the PowerWiper Pulse Controller.
The PowerWiper is an all-season, motorized, computer-controlled windshield wiper system that replaces your windshield wiper. In normal operation, it's a premium windshield wiper and operates just like your regular windshield wiper. In winter, the PowerWiper keeps ice and snow from accumulating on the wiper ensuring a clean windshield regardless of conditions.
Activate the PowerWiper at any time and any speed from the comfort inside your vehicle with the Pulse Controller. You'll get a crystal clear windshield that will reduce eyestrain and make your travel safer.
You don't have to be an auto technician to install the PowerWiper system, it's quick and stress-free! Simply follow a simple step by step guide, included with every PowerWiper, and you'll be finished in no time!
Visit our Frequently Asked Questions Page