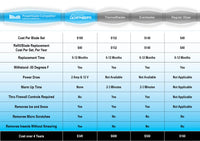 Cost Comparison Chart
Click to view this cost comparison between the PowerWiper, Heated Blades and Conventional Wipers over 4 years.
Click to Enlarge
PowerWiper Testimonials
"With the PowerWiper, my drivers feel much more safe when going down the road and hitting a snow storm. Now all the Freightliners in our fleet have PowerWipers - we won't run anything else."

Skyler Droubay, Equipment Manager for Double D Distribution
Why Choose the PowerWiper?
1. Breaks Up Heavy Snow and Prevents Snow and Ice Buildup without using Heat.
2. Removes Bugs without Smearing or Streaking Faster and Better.
3. Removes Micro-scratches and Polishes Glass.
Learn More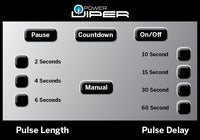 PowerWiper Pulse Controller
The PowerWiper Pulse Controller is now available and allows automated controls or manual control by the driver. Only one Pulse Controller is necessary to operate the PowerWiper on both the driver and passenger side.
Order Now
Simple Installation
Learn how to install the PowerWiper and Pulse Controller in your vehicle.
Learn how
PowerWiper News
The PowerWiper is now available for purchase and installation at Utility Trailer Sales of Boise/Idaho Falls/Spokane!